As your team grows there has to be a better way of managing passwords and user accounts. It's called Teamstack, a simple and convenient identity management solution for businesses of any size.
Teamstack is a cloud identity and access management platform that provides your workforce with secure, convenient access. It works with 500+ applications, greatly simplifying the entire process.
Teamstack provides cloud identity management that's easy use and works with tools you already have installed on your computer.
Here's a look at the tool and how it can work for you.
What is Teamstack?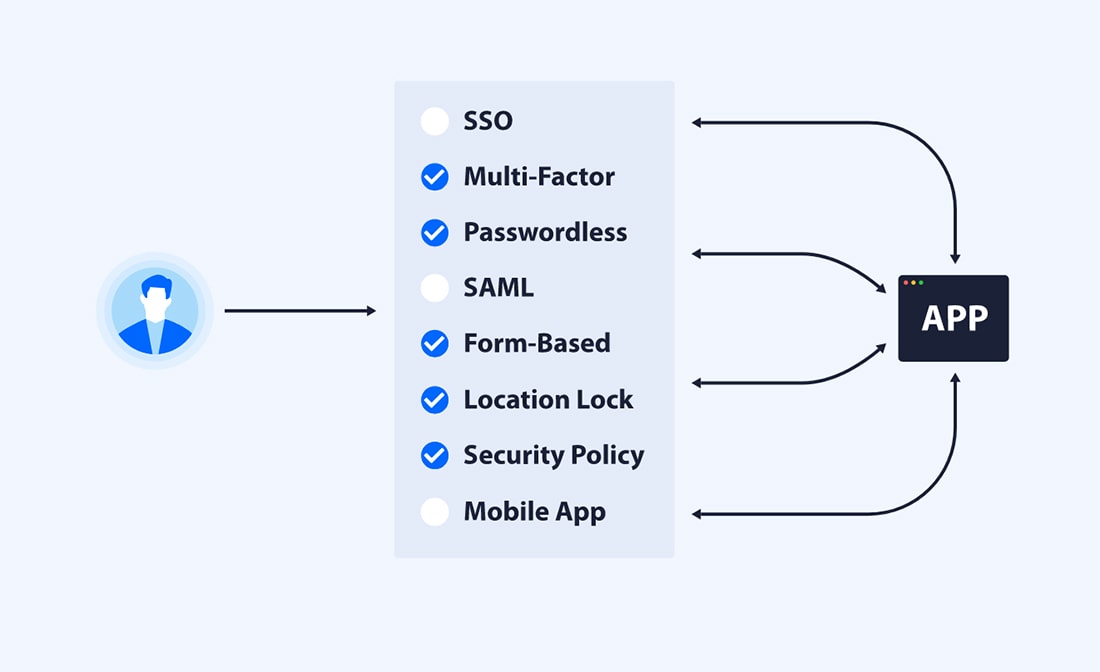 Teamstack automatically connects through other apps you use, allowing you to grow your team of users. By automating the ability for employees, contractors, and customers to access the apps you use every day, working together becomes a seamless experience.
Teamstack is on a mission to protect your business identity.
What does this mean for you? The right people can log into your websites, apps, and systems when they need to and have appropriate access without passwords, thanks to Teamstack multi-factor authentication.
Teamstack provides enterprise-grade security in a simple manner. You don't have to be a cybersecurity expert to understand how to use it. Plus, plans are affordable enough so that companies of any size can get the same security features as Fortune 500 companies.
The tool has free and paid plans, depending on your needs.
Teamstack is on a mission to protect your business identity. The team has created more than 500 app integrations, processed millions or secure logins, and has more than 750 teams (from startups to Fortune 500s) using the tool. Teamstack describes itself like this:
"The founders of Teamstack decided to create an easy to use solution for cloud identity management. We are a diverse team of tech enthusiasts driven by a security by design methodology."
Key Features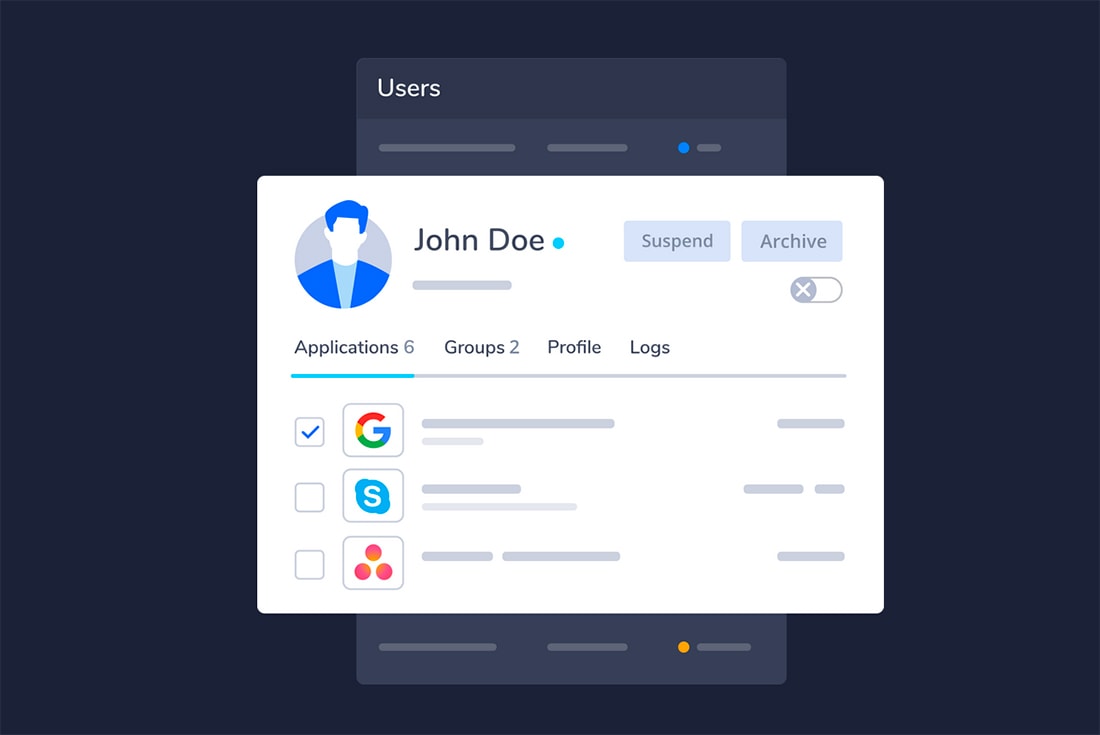 Teamstack tools can link to your systems through integrations with other apps and tools you are already using in a cloud-based environment, be custom-built for your company, or even built and integrated on-site for your business.
Security is a must for businesses of all sizes, and Teamstack makes something complicated a lot more manageable. You can manage access and users, saving time with universally compliant logins, security, and access.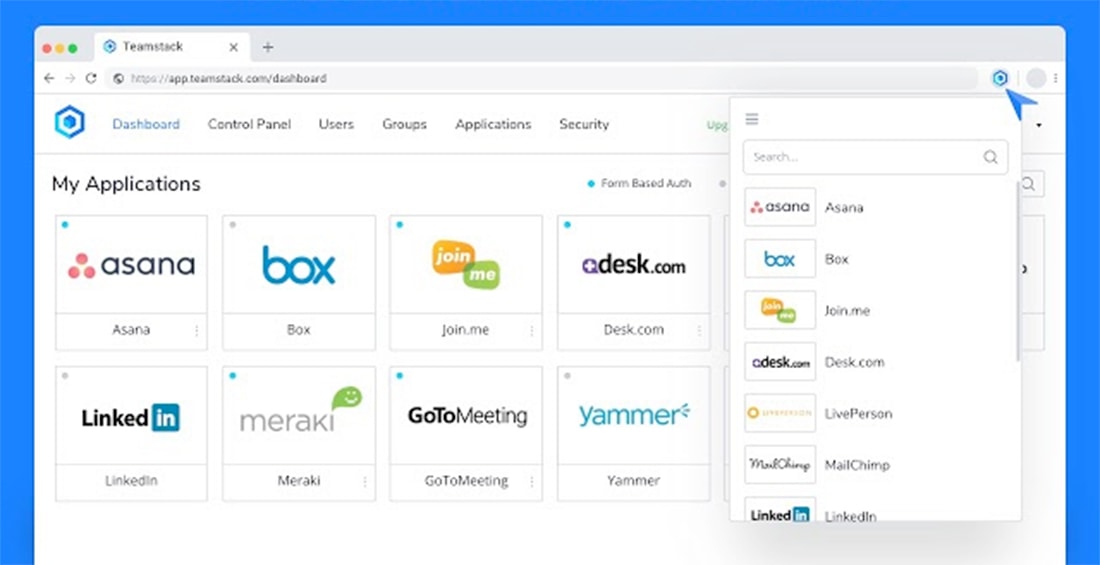 Key features include:
Single sign-on via SAML, so users can access all the tools they need with one sign-in
Form Based Auth (FBA) sign in using a browser extension; mobile app support for iOS and Android Keychain is coming soon
Multi-Factor Authentication (MFA) with support for popular methods, including WebAuthn (TouchId on Mac, Windows Hellow on Win, FIDO2), TOTP (Google Authenticator), SMS Codes, and more
One-click provisioning makes onboarding (and offboarding) users easy because a single click can add or remove users from all of your applications, reducing risk and increasing efficiency
Cloud directory to manage all of your users and groups in one place, and it all syncs in real-time
Integration with more than 500 apps, including popular tools such as GSuite, Dropbox, Slack, website content management systems, payment processors, and industry-specific tools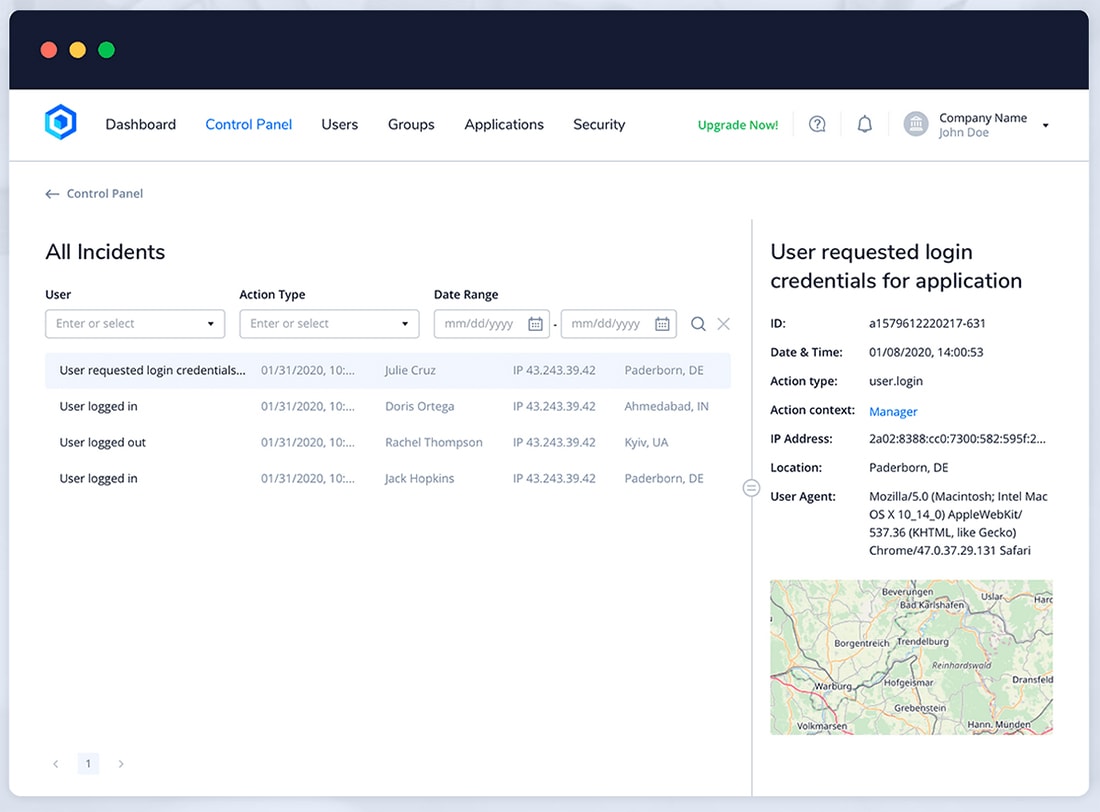 You can also add functionality with Teamstack addons:
Custom MFA creates the ability to add an extra layer of security to certain apps.
The Extended Audit Trail helps you keep track of everything that happens when it comes to users and access. Fight fraudulent log-in attempts and block threats before they become an issue.
Security Policies (such as password complexity, and expiration) help you manage internal processes, such as enforcing multi-factor authentication, log-in locations, blacklisted IP addresses, and more.
Pricing
Teamstack has a plan for almost every need. You can start with a free version for testing and scale up to custom enterprise-level packages.
Here's how pricing breaks down:
Free: Add up to 5 users, including single sign-on across multiple devices; it includes 1 SAML app, 4 FBA apps and basic multi-factor auth.
Basic ($3 per user/per month): Standard package for limited applications and basic customer support with up to 25 users, 5 SAML apps, 50 FBA apps, single sign-on for desktop and mobile devices.
Professional ($4 per user/per month): Advanced identity management tools with priority customer support, with up to 200 users, 20 SAML apps, 100 FBA apps, single sign-on, and works on desktop and mobile devices.
Enterprise (contact Teamstack for custom pricing): Everything in professional with unlimited usage, dedicated support, service-level agreement, extended audit, customized security, and custom solutions.
Teamstack offers a few add-ons as well that can be stacked on any plan for $2 per month per user each:
Custom MFA
Extended Audit Trail
Security Policies
Conclusion + Discount for Design Shack Fans
Keep your data and systems safe when the right people (and only the right people) have proper access to your business apps and systems.
Teamstack is a single tool to manage it all. Try it today. Use coupon code designshack and get the basic plan for 6 months + all addons for free. (No payment of any kind needed.)
Source: Web Design News